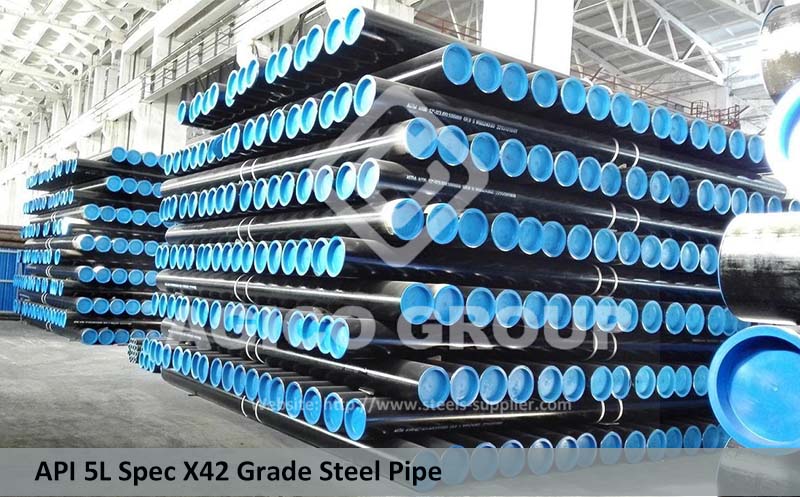 Buy API 5L X42 Line Pipe from ANSON-AGICO
API 5L X42 Steel Pipe is manufactured following API Spec 5L, which is made for pipeline pipes of transporting natural gas, water, oil and petroleum industries, including low and medium pressure vessels and boilers. Classified by material it is a type of carbon steel pipe, manufacture method can be seamless and welded.
ANSON-AGICO is specialized supplier of API 5L X42 Seamless Pipe, seamless line pipes are available in all sizes,weights and grades of black and galvanized,both seamless and electric welded, from 1/8" to 36",steel grade A, B, X42 – X70,and ERW line pipes from 4-1/2" to 20", steel grade A, B.
Standard package of API 5L X42 Seamless and ERW Pipe is available in bundles or loose. It comes tightened with special packing, iron strips, pallets, metal or wooden, etc. If you special requirements of package methods, let us know in your quotation.
API 5L X42 Seamless Pipe Chemical Composition:
PSL
Steel
grade
API 5L X42 Seamless Pipe Chemical composition (%)
C
Mn
P
S
Ti
Max
Max
Max
Max
Max
PSL1
B
0.28
1.20
0.030
0.030
0.04
X42
0.28
1.30
0.030
0.030
0.04
PSL2
B
0.24
1.20
0.025
0.015
0.04
X42
0.24
1.30
0.025
0.015
0.04
API 5L X42/L290 ERW Pipe Chemical Composition
API 5L X42 ERW PIPE CHEMICAL COMPOSITION
C
Mn
P
S
V
Nb
Ti
max.
max.
max.
max.
max.
max.
max.
0.26
1.20
0.030
0.030
c,d
c,d
d
API 5L X42 Seamless Pipe Mechanical Properties
PSL
Steel
grade
Mechanical properties
Yield strength
Tensile strength
Elongation
MPa
MPa
(%)
Min
Max
Min
Max
PSL1
B
241
414
See API SPEC 5L
X42
290
414
PSL2
B
241
448
414
758
See API SPEC 5L
X42
290
496
414
758
API 5L Grade L290 ERW Pipe Mechanical Properties
Yield Strength
Tensile Strength
ELONGATION
Mpa(psi)
Mpa(psi)
min
min
min
245(35 500)
415(60 200)
28%
Impact Test
IMPACT TEST OF API 5L X42 Line Pipe
AVG. ABSORBED ENERGY
IND. ABSORBED ENERGY
Min.(joules)
Min.(joules)
27
20
API 5L X46 , API 5L X52, API 5L X56, API 5L X60, API 5L X65, API 5L X70