Brief overview of cold rolled coil
The cold rolled coil is made of hot rolled coil. In cold rolled process, the hot rolled coil is rolled below the recrystallization temperature, and the generally rolled steel is rolled at room temperature. Steel sheet with high silicon content has low brittleness and low plasticity, and needs to be preheated to 200 °C before cold rolling. Since the cold rolled coil is not heated during the production process, there are no defects such as pitting and iron oxide which are often found in hot rolling, and the surface quality and the finish are good.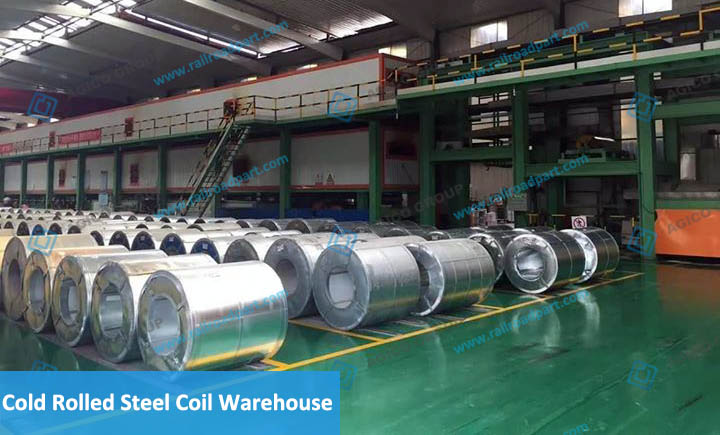 Moreover, with high dimensional accuracy of the cold rolled product, and the performance and organization of the product can meet some special use requirements, such as electromagnetic performance, deep drawing performance and the like. Cold rolled coils are used in a wide range of applications, such as automotive manufacturing, electrical products, rolling stock, aviation, precision instruments, and food cans. General specifications: thickness 0.15-3mm, width 550-1530mm, outer diameter of the coil Φ1000-2500mm, inner diameter of the coil Φ410-610mm. Maximum weight: 45 tons.
Cold Rolled Coil Production Process
The cold rolled coil is made of hot rolled coil, and its production process usually passes through main processes such as raw material preparation, cold rolling, heat treatment, leveling and finishing.
Cold Rolled Coil Product performance
The roll and the tablet are almost a cut package. The chilled coil is obtained by pickling and cold rolling the hot rolled coil. It can be said that it is a kind of cold rolled coil. Cold rolled coil (annealed state): The hot rolled coil is obtained by pickling, cold rolling, hood annealing, leveling, (finishing). There are 3 main differences between them: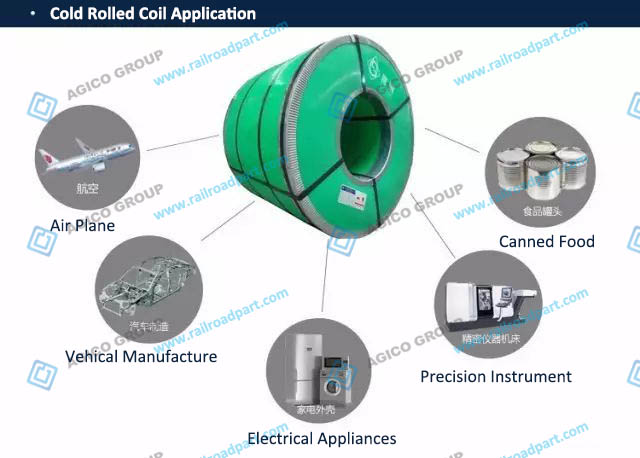 In appearance, the general chilled coil is a bit sloppy.
Cold rolled sheets such as surface quality, structure and dimensional accuracy are better than chilled coils.
In terms of performance, the chilled coil obtained directly after the cold rolling process of the hot rolled coil is work hardened during cold rolling, resulting in an increase in yield strength and a part of internal stress remaining, and the external appearance is relatively "hard". It is called chilled coil.
Therefore, the yield strength: the chilled coil is larger than the cold-rolled coil (annealed state), so that the cold-rolled coil (annealed state) is more favorable for stamping. Generally, the default delivery status of cold rolled coils is annealed.
Chemical Composition of Cold Rolled Steel Coil:
Steel Grade
C
Mn
P
S
Al
DC01
SPCC
≤0.12
≤0.60
0.045
0.045
0.020
DC02
SPCD
≤0.10
≤0.45
0.035
0.035
0.020
DC03
SPCE
≤0.08
≤0.40
0.030
0.030
0.020
DC04
SPCF
≤0.06
≤0.35
0.025
0.025
0.015
Mechanical Property of Cold Rolled Steel Coil
| Brand | Yield strength RcL Mpa | Tensile strength Rm Mpa | Elongation A80mm % | Impact test (longitudinal) | |
| --- | --- | --- | --- | --- | --- |
| Temperature °C | Impact work AKvJ | | | | |
| SPCC | ≥195 | 315-430 | ≥33 | | |
| Q195 | ≥195 | 315-430 | ≥33 | | |
| Q235-B | ≥235 | 375-500 | ≥25 | 20 | ≥2 |
Steel Grades Available and Application:
| | | | | | | | | |
| --- | --- | --- | --- | --- | --- | --- | --- | --- |
| Material category | Baosteel Enterprise Standard | National standard | Japanese Industrial Standard | German industry standard | European standard | American Society for Testing Materials Standards | Remarks | |
| Brand | Brand | Brand | Brand | Brand | Brand | | | |
| Cold rolled low carbon and ultra low carbon steel sheets and strips | Commercial grade (CQ) | SPCCST12 (German standard) | Q19510-P10-S08-P08-S08AI-P08AI-S | SPCC | ST12 | FeP01 | ASTMA366/A366M-96 (replaced by ASTM A366/A366M-97) | Q195 in 1.1GB11253-89 is a common carbon structural steel. 2.2 Such steel can be used for the production of automotive parts, furniture shells, barrel steel furniture and other simple forming, bending or welding products. |
| Stamping level (DQ) | SPCDST13 | 10-Z08-Z08AI-Z | SPCD | USt13RRSt13 | FeP03 | ASTMA619/A619M-96 (obsolete after 1997) | It can produce parts for stamping and more complex deformation processing such as automobile doors, windows, fenders, and motor casings. | |
| Deep drawing (DDQ) | SPCE-FSPCE-HFSPCE-ZFST14-FST14-HFST14-ZFST14-T | 08AI-F08AI-HF08AI-ZF | SPCE | ST14 | FeP04 | ASTMA620/A620M-96 (replaced by ASTM A620/A620M-97) | 1.1. It can produce deep-drawing parts such as automobile front lights, mailboxes, windows, etc., as well as complex and severely deformed parts. 2.2.Q/BQB403-99 The newly added ST14-T is exclusively for Shanghai Volkswagen. | |
| Deep Drilling (SDDQ) | ST15 | | | | FeP05 | | It can produce very complicated parts such as car mailboxes, front lights, and complex car floors. | |
| Ultra deep drawing (EDDQ) | ST16BSC2 (BIF2) BSC3 (BIF3) | | | | FeP06 | | 1.1. This type is ultra deep-drawn without gaps. 2.2. 1F18 in the FeP06 area agent SEW095 of EN 10130-91. | |
Cold rolled coil grade
1. The Chinese brand No. Q195, Q215, Q235, Q275——Q—the code of the yield point (limit) of ordinary carbon structural steel, which is the case of the first Chinese phonetic alphabet of "Qu"; 195, 215, 235, 255, 275 - respectively represent the value of their yield point (limit), the unit: MPa MPa (N / mm2); due to the comprehensive mechanical properties of Q235 steel strength, plasticity, toughness and weldability in ordinary carbon structural steel The most, it can better meet the general requirements of use, so the scope of application is very wide.
2. Japanese brand SPCC - Steel, P-Plate, C-cold, fourth C-common.
3, Germany grade ST12 - ST-steel (Steel), 12-class cold-rolled steel sheet.
Application of cold rolled steel sheet:
The cold-rolled coil has good performance, that is, through cold rolling, cold-rolled strip and steel sheet with thinner thickness and higher precision can be obtained, with high straightness, high surface smoothness, clean and bright surface of cold-rolled sheet, and easy coating. The plated processing, variety, wide use, and the characteristics of high stamping performance and non-aging, low yield point, so cold rolled sheet has a wide range of uses, mainly used in automobiles, printed iron drums, construction, building materials, bicycles, etc. The industry is also the best choice for the production of organic coated steel sheets.