HSLA(high strength low alloy) steel is mostly classified as carbon steel, only small amount of ally elements are added to make steel strength higher. The difference between pure carbon steel and low alloy carbon steel is that low alloy makes steel have higher toughness and heat treatment more efficient, and it has better corrosion resistance.
High strength low alloy steel plate manufacture process:
Raw Material(Iron ore and coal)are delivered in furnace to be melted, after impurities elements are removed, add alloy elements of certain amount according to the specification of steel grade. Then take measures to reduce unwanted elements such as S, P to the required percentage, finally form the melted steel into rectangular ingot. Then you can further process it into other shapes or go through other treatments.
Alloy Element and Steel Mechanical Properties
Tungsten, vanadium, silicon, nickel, molybdenum, and manganese are proved to be able to increase strength and hardness of carbon steel. Nickel is added for purpose of increasing the toughness.
Copper, nickel, and chromium have strong ability to increase the corrosion resistance of steel. For these elements are more active to oxidize than iron, so iron is protected from being oxidized.
HSLA Steel Plate Grades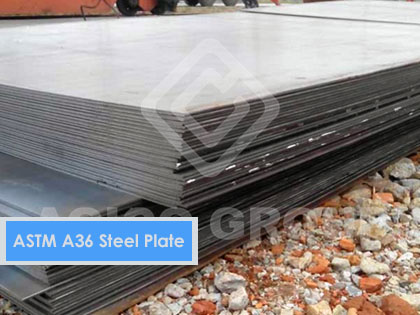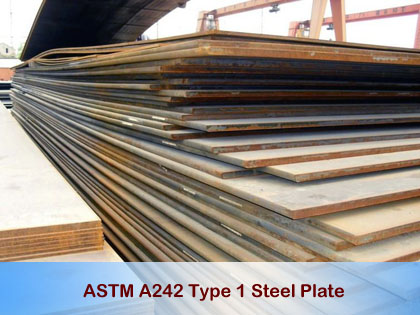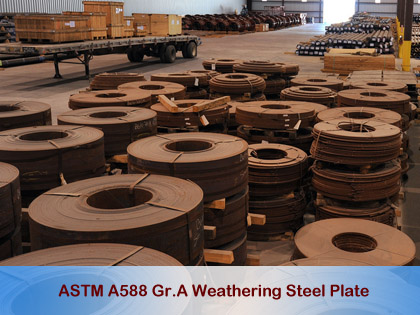 There are many different grades of HSLA steel available because of the variety alloying element combinations that can be used. The chemical composition and grade should be dependent on the intended application of the HSLA steel. Due to different recipes of alloy elements added, HSLA Steels has developed into many steel grades for various applications. There are some common steel grades which are very familiar: ASTM A36, ASTM A242 and ASTM A588, ASTM A573, etc.
ASTM A36: Most Common Steel Structural Steel Grade, it has good strength and is weldable, machinable, moreover, it is cheaper than most other alloy steels. ASTM A36 is one most popular steel grades being used in building structures until now.
Weathering Steel(ASTM A242/ASTM A588): Which is designed for outer space steel structures that exposed to atmosphere. It forms a protective oxidized layer, which can last for decades, it doesn't need special paintings to be corrosion resist. Weathering steel is popular for no maintenance work.
Pipeline Steel/Pressure Vessel Plate:API 5L Grade X70 is one of the most common materials used for oil and gas pipelines. Another steel used in the oil and gas industry is ASTM A573. ASTM A573 is mainly used for the manufacture of oil and gas storage tanks.