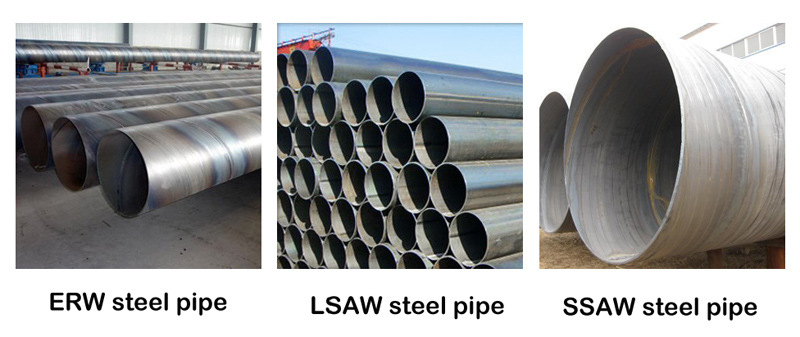 ERW welded steel pipe: High frequency electric resistance welded pipe, raw material is hot rolled steel plate, through the continuous forming, bending, welding, heat treatment, sizing, straightening, cutting process.
Feature: Compared with SSAW steel pipe, it has advantages of high dimensional accuracy, uniform wall thickness, good surface quality, high pressure resistant performance, etc. But the disadvantage is that it can only be used in production of small diameter thin wall pipe. It is widely used in fields of city gas, crude oil transportation.
SSAW welded steel pipe: spiral submerged arc welding pipe, in the roll forming process, create a forming angle in the rolling direction, then welding process is right after rolling process, final product has a spiral welded seam.
Feature: Advantage is that it can produce various diameters of steel pipe of the same specification, raw material range is wider, the weld seam can avoid the principal stress to obtain good stress condition; the disadvantage is poor geometry size, weld seam length is longer than straight seam steel pipe, weld defects like cracks, porosity, slag occurs occasionally. Welding stress is at tensile stress state. The rules and regulations of general oil and gas long distance pipeline design spiral submerged arc can only be used for 3, 4 class regions.
LSAW welded steel pipe: straight seam submerged arc welding pipe, production process: first use die or forming machine to roll steel plate into pipe shape, then double sided submerged arc welding.
Feature: Product dimension range is wide, it has the advantages of high toughness, good plasticity, good uniformity and compactness, In project construction of long distance gas and oil pipeline, straight seam submerged arc welded pipe is required. According to API 5L standard, it is the only designated steel pipe type in areas of cold area, sea and city populated areas.