ASTM A53 Seamless Steel Pipe
ASTM A 53 covers seamless and welded steel pipe with nominal wall thickness. The surface condition is usually black and hot-dipped galvanized. ASTM A 53 is produced mainly for pressure and mechanical applications, and is also used for transport of steam, water, gas line pipes.
ASME SA 53 Seamless Pipes are Low Carbon Steel Pipes with 0.25 % carbon content with combination of 0.95 % manganese, AGICO ANSON export ASME SA 53 pipes in forms of seamless and welded black and hot-dipped galvanized steel pipe of all dimensions. it's also called mild steel pipes which are easy to produce. ASTM A53 pipes are manufactured by ASME Specification. As it belongs to low Carbon Steel, it can only increase surface hardness by carburizing. If you are interested in buying ASTM A53 or ASME SA53 carbon seamless pipe from AGICO, contact us now for latest price.
ASTM A53 Mechanical property:
| Seamless and ERW | Grade A | Grade B |
| --- | --- | --- |
| Tensile Strength, min, psi | 48,000 | 60,000 |
| Yield Strength | 30,000 | 35,000 |
ASTM A53 Chemical Composition(%)
| Seamless and ERW | C max % | Mn max % | P max % | S max % |
| --- | --- | --- | --- | --- |
| Grade A | 0.25 | 0.95 | 0.05 | 0.045 |
| Grade B | 0.30 | 1.20 | 0.05 | 0.045 |
ASTM A53 Seamless Carbon Pipe Packing and Delivery: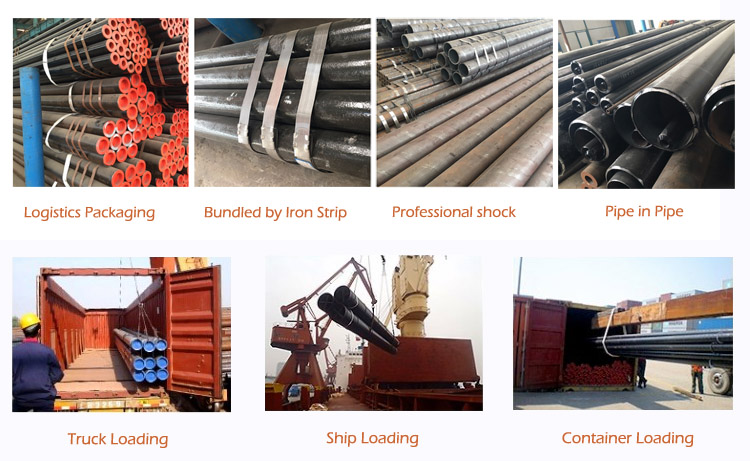 ASTM A53 Steel Pipe Test requirements:
| Seamless and ERW | Degree of Bend | Diameter of Mandrel |
| --- | --- | --- |
| For normal A53 users | 90 | 12 x nom. diameter of pipe |
| For Close Coiling | 180 | 8 x nom. diameter of pipe |