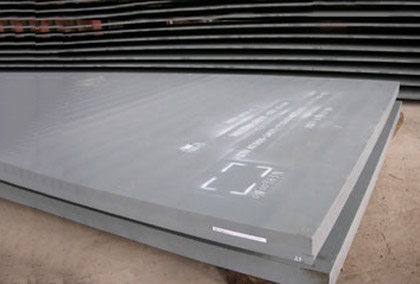 ASTM A285 Carbon Steel Plate
ASTM A285 Steel Introduction:
ASTM A285 is a type of ordinary carbon steel intended for fusion-welded pressure vessel equipments as boiler, storage tank, heat exchangers, etc. With 3 steel grades (Grade A, Grade B, Grade C) covering tensile strength range from 310-515Mpa,usually ASTM A285 steel plate is delivered as-rolled condition. made by killed, semi-killed, capped or rimmed steel practices according to the end users' requirement.
ASTM A285 steel could be manufactured into many steel product forms, steel plates, steel coil, steel pipe, it has good weld-ability for fusion weld need for pressure vessel equipment, its max thickness is limited to 50mm in order to insure its mechanical property. AGICO ANSON could supply hot rolled and cold rolled ASTM A285 steel plate, customers can also have specific fabrication cutting ( any size and any shape ) drilling, welding, milling, machining and steel structure according to drawing.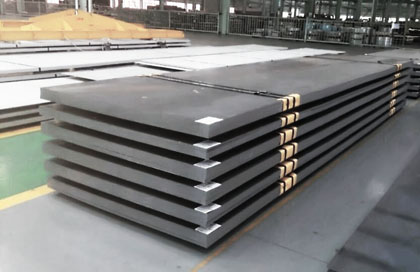 ASTM A283 Structural Steel Plate
ASTM A283 Steel Introduction:
ASTM A283 is designed as a type of carbon steel plate for general structural purpose, this steel has low and intermediate tensile strength, it has 2 steel grades(Grade C, Grade D) . For steel plate made from coils or with no heat treatment, additional test is required for its stress relieving, usually after steel coil is decoiled, inspection, conditining, heat treatment are required before delivering. ASTM A283 is only used for structural purpose, while ASME SA283/SA283M steel plate could also be used in boiler and pressure vessel manufacture. Availlable ASTM A283 steel product form covers steel plate, steel coil, steel pipe, and structural steel products as steel sections, beams, if you need to buy ASTM A283 steel plate, contact us now.
ASTM A285 Chemical Composition:
| ASTM A285 Chemical Composition | Grade A | Grade B | Grade C |
| --- | --- | --- | --- |
| Carbon, max | 0.17 | 0.22 | 0.28 |
| Manganese, max | 0.90 | 0.90 | 0.90 |
| Phosphorus, max | 0.035 | 0.035 | 0.035 |
| Sulphur, max | 0.035 | 0.035 | 0.035 |
ASTM A283 Chemical Composition:
ASTM A283 Chemical Elements(max)
Heat Analysis, %
Grade C
Grade D
Carbon
0.24
0.27
Manganese
0.90
0.90
Phosphorus
0.030
0.30
Sulfur
0.030
0.030
Silicon
Plates 11⁄2 in. [40 mm] and under, max
0.40
0.40
Plates over 11⁄2 in. [40 mm]
0.15-0.40
0.15-0.40
Copper
0.20
0.20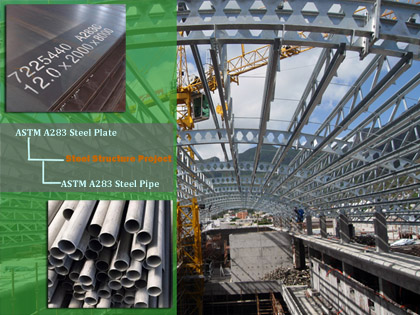 Structural Steel Plate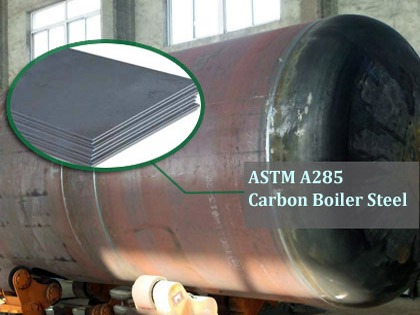 Pressure Vessel Steel
Mechanical Properties Comparision of ASTM A283 and ASTM A285
Mechanical Property comparion of ASTM A283 and ASTM A285
Steel Grade
Tensile strength ,min Ksi Mpa
Yield strength min Ksi Mpa
Elongation in 2 inches
(50 mm)% min.
ASTM A-36 / A-36 M
58-80 ( 400-550 )
36 ( 250 )
23
ASTM A-283 / A-283 M gr A
45-60 ( 310-415 )
24 ( 165 )
30
ASTM A-283 / A-283 M gr B
50-65 ( 345-450 )
27 ( 215 )
28
ASTM A-283 / A-283 M gr C
55-75 ( 380-515 )
30 ( 205 )
25
ASTM A-283 / A-283 M gr D
60-80 ( 415-550 )
33 ( 230 )
23
ASTM A-285 / A-285 M gr A
45-65 ( 310-450 )
24 ( 165 )
30
ASTM A-285 / A-285 M gr B
50-70 ( 345-485 )
27 ( 215 )
28
ASTM A-285 / A-285 M gr C
55-75 ( 380-515 )
30 ( 205 )
27