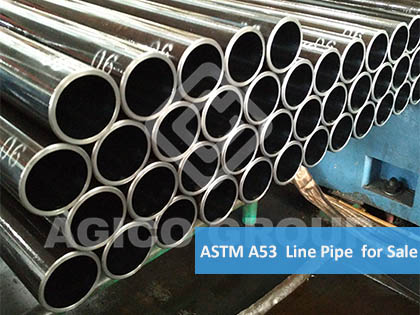 ASTM A53 Steel Pipe Supplied By ANSON-AGICO
ANSON-AGICO sells ASTM A53 Steel Pipes of many grades, Seamless Pipe(Grade A, Grade B), Welded Pipe(Type E, Type F). ASTM A53 Steel Pipe is vastly used in construction sites and underground transportation.
For example: it can be used to draw water from the ground as fluid pipe. It is used as pipeline pipes for gas and oil transmission as well as water power station, it is also used as structural steel in machinery parts, after coated with zinc, it is used in wind power plant.If you are in need of ASTM A53 Steel Pipe, Contact ANSON-AGICO now!
ASTM A53 Seamless Pipe Chemical Compostions:
ASTM A53
Type S
(seamless)
Chemical Composition
Grade A
Grade B
Carbon max. %
0.25
0.30
Manganese %
0.95
1.2
Phosphorous, max. %
0.05
0.05
Sulfur, max. %
0.045
0.045
Copper, max.%
0.40
0.40
Nickel, max. %
0.40
0.40
Chromium, max. %
0.40
0.40
Molybdenum, max. %
0.15
0.15
Vanadium, max. %
0.08
0.08
ASTM A53 Welded Pipe Chemical Compostions:
ASTM A53
Type E
Type F
Chemical Composition
(electric-
resistance welded)
(furnace-
welded pipe)
Grade A
Grade B
Grade A
Carbon max. %
0.25
0.30
0.3
Manganese %
0.95
1.2
1.2
Phosphorous, max. %
0.05
0.05
0.05
Sulfur, max. %
0.045
0.045
0.045
Copper, max.%
0.40
0.40
0.4
Nickel, max. %
0.40
0.40
0.4
Chromium, max. %
0.40
0.40
0.4
Molybdenum, max. %
0.15
0.15
0.15
Vanadium, max. %
0.08
0.08
0.08
Tensile Requirements for Seamless and Welded ASTM A53 Pipe
Grade ASTM A53
Seamless Pipes and Electric-resistance-welded Pipes
Continuous-Welded Pipes
Mechanical Property
Grade A
Grade B
Tensile Strength, min., psi
48,000
60,000
45,000
Yield Strength, min., psi
30,000
35,000
25,000
Test Requirements for ASTM A53 Steel Pipes
| Test Types | ASTM A53 Pipe Test Details |
| --- | --- |
| Number of Tests Required | Seamless and Electric-Resistance-Welded — Bending, flattening, tensile on one length of pipe from each lot of 500 lengths or less of a size. |
| Hydrostatic Testing | Hydrostatic inspection test pressures for plain end and threaded and coupled pipe are specified. Hydrostatic pressure shall be maintained for not less than 5 seconds for all sizes of seamless and electric-resistance-weld pipe. |
| Mechanical Tests Specified | Tensile Test — Transverse required on ERW for NPS 8 and large. Sending Test (Cold) — STD and XS-NPS 2 and under XXS-NPS 1 1/4 and under. |