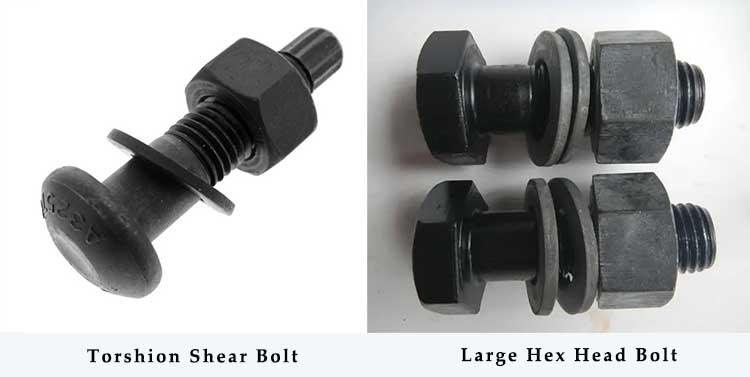 Structural Steel Bolt Introduction
Bolt Type: Large Szie Hex Bolt, Torsion Shear Bolt
Standard: GB1228/GB3632
Strength Grade: 10.9S, 12.9S
Surface Treatment: quench, hot-dip galvanizing, DACROMET

Steel Structural Bolt can be classified into large size hex bolt and torsion shear bolt, it is mainly used in the connection point of steel structure projects.
Large Hex Head Bolt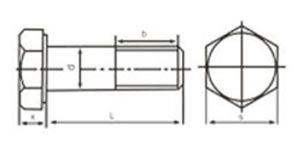 The hexagonal head of large hexagon bolt is different from general hexagon bolt. For hexagonal head size is larger than that of the ordinary hexagon head bolt product, it is also called steel Structural large hexagon bolt. Steel structure large hexagonal bolt is mainly used in industrial and civil buildings, railway bridges, highway bridges, pipeline bridges, tower mast structures, boiler frames, boiler steel structures, large-span industrial plants, high-rise civil buildings, various towers, light Construction of steel structures, hoisting machinery and other steel-connected buildings.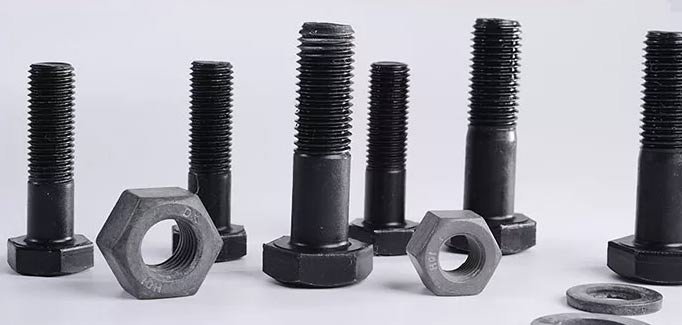 When the steel structure large hexagon bolt is assembled, the chamfered side of the washer under the bolt head should face the bolt head; the steel structure large hexagon bolt connection pair needs to be constructed using a torque wrench, which requires a large operating space and needs to be divided into initial screwing and final screwing, and the construction is a bit more troublesome than the torsional shear bolts; the quality inspection also requires torque inspection, which requires professional equipment and quality inspection personnel.
Torsion Shear Bolt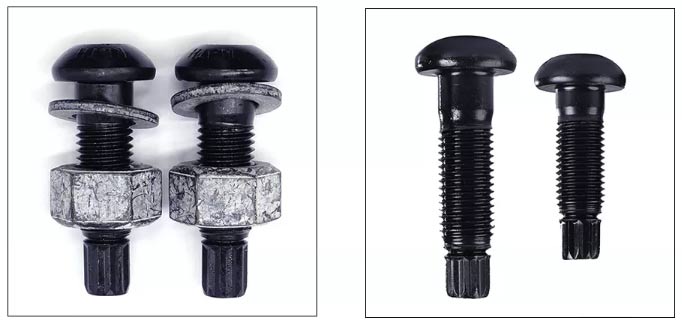 High-strength Steel structure bolts are divided into torsional shear type bolts and large hexagonal bolts. The steel structure torsion shear bolt is a kind of high-strength bolt, and it is also a kind of standard parts. Large hexagonal steel structural bolts consist of one bolt, one nut, and two washers. Torsional shear steel structural bolts consist of a bolt, a nut, and a washer. In general steel structure, the required steel structure bolts are above grade 8.8, as well as grade 10.9 and 12.9, all of which are high-strength steel structure bolts.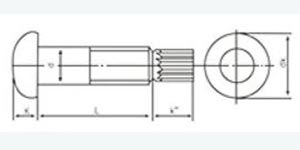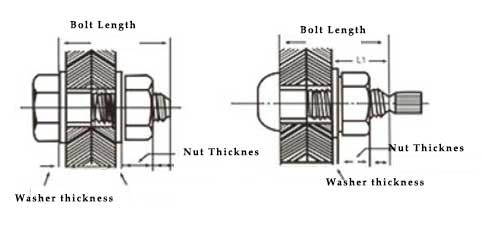 The length of the torsion shear type high-strength bolt is the length from the bearing surface under the screw head to the incision of the screw tail. The torsion shear type high-strength bolt has a torx head at the end of the screw. Tighten the nut with a special wrench during construction, and the torque shear bolt will reach standard torque when the torx head is broken. They are all friction type high-strength bolts and can be replaced, but using torsion-shear type high-strength bolts do not require calculating the torque, and the torque is easy to guarantee, which can avoid the phenomenon that the final torque is not enough due to calculation errors or using ordinary wrenches instead of torque wrenches.
Large Size Hex Bolt Dimension:
| d | M12 | M16 | M20 | M22 | M24 | M27 | M30 |
| --- | --- | --- | --- | --- | --- | --- | --- |
| S | 21 | 27 | 34 | 36 | 41 | 46 | 50 |
| K | 7.5 | 10 | 12.5 | 14 | 15 | 17 | 18.7 |
| L | 35-75 | 45-130 | 50-160 | 55-220 | 60-240 | 65-260 | 70-260 |
Torsion Shear Bolt Dimension:
| d | M16 | M20 | M22 | M24 |
| --- | --- | --- | --- | --- |
| dK | 30 | 37 | 41 | 44 |
| K | 10 | 13 | 14 | 15 |
| KH | 17 | 19 | 21 | 23 |
| L | 40-120 | 45~140 | 50-160 | 55-180 |
Structural Bolt Tensile Load
|  Strength Level | M12 | M16 | M20 | M22 | M24 | M27 | M30 | Hardness |
| --- | --- | --- | --- | --- | --- | --- | --- | --- |
| 8.8S | 70-86.8 | 130-162 | 203-252 | 251~312 | 293-364 | 381-473 | 466-518 | HRC24-HRC31 |
| 10.9S | 87.7-104.5 | 163-195 | 255~304 | 315-376 | 367-438 | 477~569 | 583~696 | HRC33-HFC39 |
Nut Dimension: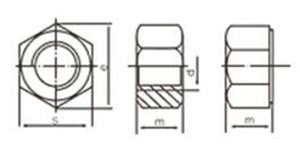 | d | M12 | M16 | M20 | M22 | M24 | M27 | M30 |
| --- | --- | --- | --- | --- | --- | --- | --- |
| s | 21 | 27 | 34 | 36 | 41 | 46 | 50 |
| M | 12.3 | 17.1 | 20.7 | 23.6 | 24.2 | 27.6 | 30.7 |
| E | 22.8 | 29.6 | 37.3 | 39.6 | 45.2 | 50.9 | 55.4 |
Washer dimension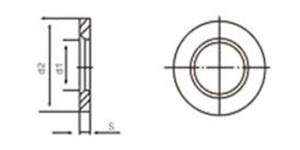 | d | M12 | M16 | M22 | M24 | M27 | M30 |
| --- | --- | --- | --- | --- | --- | --- |
| d1 | 13 | 17 | 23 | 25 | 28 | 31 |
| d2 | 25 | 33 | 42 | 47 | 52 | 56 |
| s | 3 | 4 | 5 | 5 | 5 | 5 |
High Strength Bolt Assembly Axial Force
| d | M16 | M20 | M22 | M24 | M27 | M30 |
| --- | --- | --- | --- | --- | --- | --- |
| 8.8S KN | 75 | 120 | 150 | 170 | 225 | 275 |
| 10.9S KN | 110 | 170 | 210 | 250 | 320 | 390 |