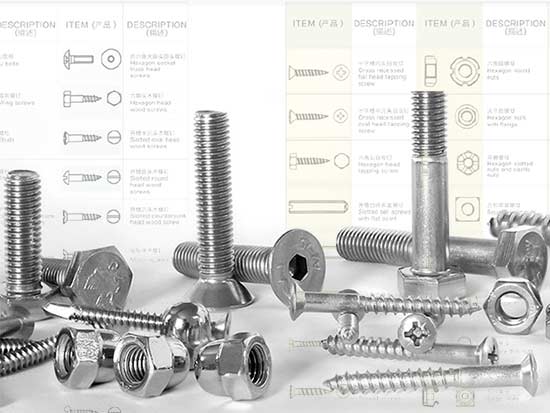 ---
What we supply: AGICO supplies all types of stainless-steel fasteners including bolt, screw, nut, washers, our standard and none standard steel bolt product standard covers GB, ISO, DIN, ANSI, BS, etc; or if you requires fastener with customized drawing, AGICO is able to produce according to your fastener drawing.
Stainless Steel Bolt: The stainless steel bolt and nut is used for fastening and connecting two connected parts and structures with through holes.
According to the type of stainless steel bolts can be divided into stainless steel hexagonal head bolts, stainless steel hexagonal flange bolts, stainless steel square head bolts, semicircular head (square neck or with tenon) bolts, countersunk head (square neck or with tenon) bolts, T-slot bolts, stainless steel live joint (eye) bolts, stainless steel anchor bolts and other types.
Fastener Types
| Fastener Product | Types |
| --- | --- |
| Stainless Steel Bolts | hex bolts, carriage bolts, flange bolts, etc |
| Stainless Steel Nuts | hex nuts, square nuts, flange nuts, T nuts, wing nuts, etc |
| Stainless Steel Screw | self-drilling screws, self-tapping screws, wood screws, etc |
| Stainless Steel Washers | flat washers, spring washers, square washers, etc. |
| Stainless Steel Threaded Rods | stud bolts, threaded rods, etc. |
---
What is Stainless Steel Fastener
Stainless steel Fastener usually refers to the fastener with resistance to air, water, acid, alkali salt or other medium corrosion ability. Stainless steel fasteners are generally not easy to rust, durable, available in environmental protection equipment, medical equipment, communication equipment and other fields.
Stainless Steel Bolt

| Stainless Steel Bolt and Screw | DIN | GB | ANSI/ASME | JIS | ISO | Supplementary Instructions |
| --- | --- | --- | --- | --- | --- | --- |
| Hexagon Head Half Thread Bolts, Grade C | 601 | 5780 |   |   | 4016 |   |
| Hexagon Head Bolts, Half Thread, Grade A & B | 931 | 5782 | B18.2.1 | B1180-94 | 4014 |   |
| Hexagon Head Bolts, Full Thread, Grade A & B | 933 | 5783 | B18.2.1 | B1180-94 | 4017 | GB30 |
| Hexagon head bolt, thin bar |   | 5784 |   |   |   |   |
| Half round head square neck bolt | 603 | 14 | B18.5 | B1171-96 | 3617 |   |
| Small half round head square neck bolt |   | 12 |   |   |   |   |
| Half round head low square neck bolt |   | 801 |   |   |   |   |
| Hexagon socket head cap bolts | 912 | 70 | B18.3 | B1176-88 | 4762 |   |
| Joint bolt | 444 | 798 |   |   |   |   |
| Anchor bolts | 529 |   |   |   | 799 |   |
| U-bolt | 3570 |   |   |   |   |   |
Stainless Steel Screw

| Stainless Steel Bolt and Screw | DIN | GB | ANSI/ASME | JIS | ISO | Supplementary Instructions |
| --- | --- | --- | --- | --- | --- | --- |
| Hexagon socket flat point set screws | 913 | 77 |   |   | 4026 |   |
| Hexagon socket head set screws | 916 | 80 |   |   | 1029 |   |
| Hexagon socket head thin head screw | 7984 |   |   |   |   |   |
| Hexagon socket head screw | 7991 |   | B18.3 |   |   |   |
| Hexagonal pan head wire |   |   | B18.3 |   | 7380 |   |
| Slotted Cylinder Head Screws | 84 | 65 |   |   | 1207 |   |
| Slotted Pan Head Screws | 85 | 67 | B18.6.3 | B1101-96 | 1580 |   |
| Slotted Countersunk Head Screws | 963 | 68 | B18.6.3 |   | 2009 |   |
| Slotted large flat head screws |   |   |   |   |   |   |
| Cross recessed pan head screws |   | 823 |   |   |   |   |
| Cross recessed pan head screws | 7985 | 818 | B18.6.3 | Bllll-96 | 7045 |   |
| Cross Recessed Countersunk Head Nails | 965 | 819 | B18.6.3 | Bllll-96 | 7046 |   |
| Cross recessed countersunk head screws | 966 | 820 | B18.6.3 | Bllll-96 | 7047 |   |
| Cross recessed large flat head screw |   |   | B18.6.3 | B1111T |   |   |
| Slotted Countersunk Head Self-Double Screws |   | 5283 | B18.6.4 | B1122-96 |   |   |
| Cross recessed pan head tapping screws | 7981 | 845 | B18.6.4 |   | 7049 |   |
| Cross recessed countersunk head tapping screws | 7982 | 846 | B18.6.4 | B1122-96 | 7050 |   |
| Cross recessed large flat head self-tapping screws |   |   | B18.6.4 | B1122T |   |   |
| Hexagon wood screws | 571 | 102 |   |   |   |   |
Threaded Rod and Stud Bolt

| Stainless Steel Bolt and Screw | DIN | GB | ANSI/ASME | JIS | ISO | Supplementary Instructions |
| --- | --- | --- | --- | --- | --- | --- |
| Threaded Rod | 976 | 15389 |   |   | IFI136 |   |
| Stud -bn=ld | 938 | 897 |   |   |   |   |
| Stud -bn = 1.25b | 939 | 898 |   |   | IFI136 |   |
| Stud -bn = 1.5b |   | 899 |   |   |   |   |
| Stud -bn = 2b |   | 900 |   |   |   |   |
| Standard Stud |   | 901 |   |   |   |   |
| Welding studs for hand welding |   | 902 |   |   |   |   |
Stainless Steel Nut Rivet Pins Washers

Classification
Stainless Steel Nut and Washer
DIN
GB
ANSI/ASME
JIS
ISO
Supplementary Instructions
Nut
Hex Nut. Grade A & 8
934
6170
B18.2.2
B1181-93
4032
 
Hexagon Nut Fine Thread.A&B Grade
934
6171
B18.2.1
81181-93
8673
 
Hexagonal Whitworth Nut
 
 
 
B1181-96
 
 
Hexagon Thin Nuts, Grade A & B Chamfers
439
6172
B18.2.2
B1181-96
4035
 
Hexagon Thin Nuts
936
 
 
 
 
 
Hex Flange Nuts
6923
6177
 
 
4161
 
Hexagon head nylon lock nut
982
689.1
 
 
7040
 
Type I Non-Metallic Insert Hex Lock Nuts (Low Profile)
985
6182.2
 
 
10511
Nylon Nut
All Metal Hex Lock Nuts (Type 1)
980
6184
 
 
7719
 
All Metal Hex Lock Nuts (Type 2)
6925
6185.1
 
 
7042
 
Hexagonal machine nut
 
 
B18.6.3
 
 
 
Combined cap end female
 
802
 
 
 
 
Cap Nut
1S87
923
 
 
 
 
wing nut
315
62
818.17
 
 
 
Square Weld Nut
928
/T13680
 
 
 
 
Hexagon Weld Nuts
929
/T13681
 
 
 
 
square nut
557
39
 
 
 
 
Thin square nut
 
 
 
 
 
 
round nut
981
812
 
 
2982
 
eye nut
582
 
 
 
 
 
Slotted Hex Nuts
935
6178
 
 
7035
 
Rivets and Pins
Dome head rivets
660
867
 
 
 
 
Countersunk head rivets
 
869
 
 
 
 
Flat head rivets
 
109
 
 
 
 
Flat head rivets
 
871
 
 
 
 
Elastic cylindrical pin
 
879
 
 
 
 
cotter pin
94
91
 
 
 
 
National cone pin
1
117
 
 
1234
 
National Column Pin
7
119
B18.8.2
 
2339
 
Washers and retaining rings
Flat washer class A
125
97.1
 
 
2338
 
small washer
433
848
 
 
7089
 
large washer
9021
96
 
 
7092
 
Extra Large Washer
440
5287
 
 
7093
 
Heavy Duty Flat Washers
7439
 
 
 
7094
 
square washer
436
 
 
 
 
 
Standard spring washer
127
93
 
 
 
 
light spring ring
 
859
 
 
 
 
Wave spring washer
137-B
955
 
 
 
 
saddle spring
128-A
7245
 
 
 
 
Internal tooth lock washer
6797A
861.1
 
 
 
 
External tooth lock washer
6797J
862.1
 
 
 
 
Internal Serrated Locking Pad
6798J
861.2
 
 
 
 
External Serrated Locking Pad
6798A
862.1
 
 
 
 
Retaining ring for hole
 
893
 
 
 
 
Retaining ring for shaft
 
894
 
 
 
 
Throat hoop
3017
 
 
 
 
 
Stainless Steel Fastener Dimension Chart
Metric Standard
Standard code
American Standard
British Standard
Coarse end grain
fine thread
Specification
Diameter(mm)
number of teeth
number of teeth
diameter d
Mule distance P
diameter d
Pitch P
UNC
UNF
BSW
BSF
1.6
0.35
8
1
0#
1.52
 
80
 
 
2
0.4
10
1
1#
1.85
64
72
 
 
2.5
0.45
10
1.25
2#
2.18
56
64
 
 
3
0.5
12
1.25
3#
2.51
48
56
 
 
3.5
0.6
12
1.5
4#
2.84
40
48
 
 
4
0.7
14
1.5
5#(1/8')
3.18
40
44
40
 
5
0.8
16
1.5
6#
3.51
32
40
 
 
6
1
18
1.5
8#
4.17
32
36
 
 
8
1.25
20
1.5
10#(3/16)
4.83
24
32
24
32
10
1.5
20
2
12#(7/32)
5.49
24
28
 
28
12
1.75
22
2
1/4
6.35
20
28
20
26
14
2
24
2
5/16
7.94
18
24
18
22
16
2
27
2
3/8
9.53
16
24
16
22
18
2.5
30
2
7/16
11.11
14
20
14
20
20
2.5
33
3
1/2
12.7
13
20
12
18
22
2.5
36
3
9/16
14.29
12
18
12
16
24
3
39
3
5/8
15.88
11
18
11
14
27
3
45
3
11/16
17.46
 
 
11
14
30
3.5
52
4
3/4
19.05
10
16
10
12
33
3.5
56
4
13/16
20.64
 
 
 
 
36
4
60
4
7/8
22.23
9
14
9
11
39
4
64
4
15/16
23.81
 
 
 
 
42
4.5
72
6
1
25.4
8
12
8
10
45
4.5
76
6
1-1/8
28.58
7
12
7
9
48
5
80
6
1-1/4
31.75
7
12
7
9
52
5
85
6
1-3/8
34.93
6
12
 
8
56
5.5
90
6
1-1/2
38.1
6
12
6
8