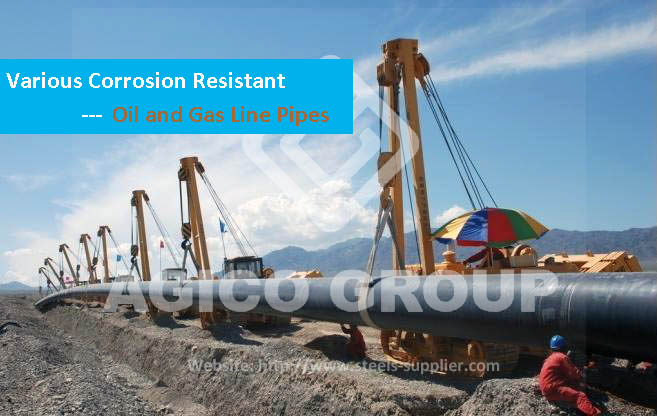 Steel Grade Selection for Corrosive Environment of Oil and Gas Line Pipes
Most of the oil and gas resources contain H2S or / and CO2. Among them, some oil and gas wells contain only H2S or only CO2, while more oil and gas wells contain both H2S and CO2. For the corrosion and protection problems containing only H2S, over 50 years, a lot of research has been done, the corrosion mechanism is relatively clear, at present, the corrosion control methods and protective measures are relatively mature, and NACE MR0175/ISO15156 is formed internationally. Standards and specifications, China is able to manufacture API 5CT casing and tubing tubes of API Standards, and has developed oil industry standard SY/T0599.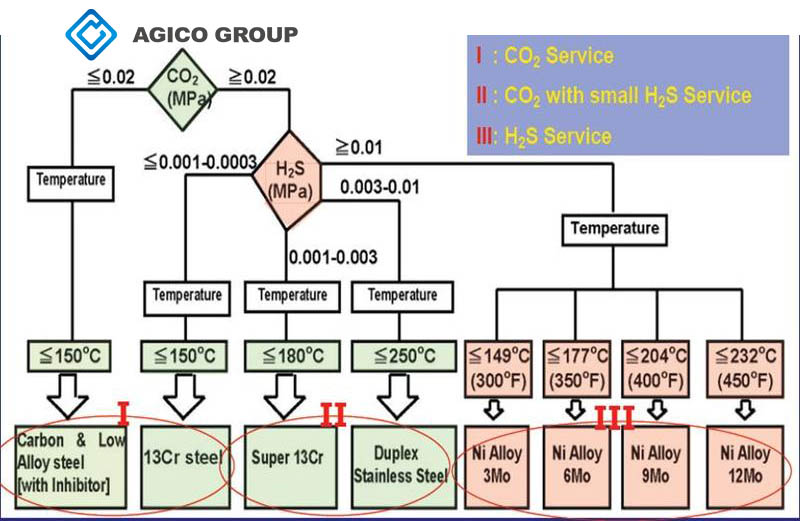 Research for Octg Pipe Materials
In the past 20 years, many researches have been made on the mechanism of CO2 corrosion and protective measures under high temperature and high pressure conditions. However, for the study of the corrosion mechanism and regularity of H2S and CO2 at the same time, due to the complex interaction between H2S and CO2, a perfect theoretical system has not yet been formed. Many theoretical and technical issues have yet to be further studied.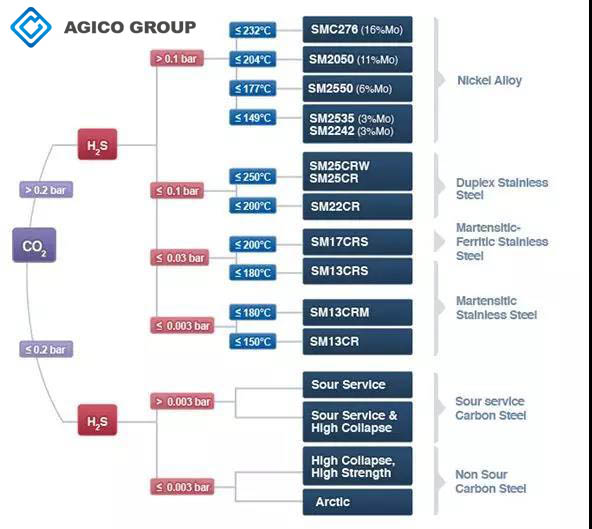 Octg Pipe Steel Grades Development in China
Since the beginning of this century, some oil and gas fields in the harsh environment of the world have been developed. Foreign countries have increased the research and development of corrosion-resistant oil well pipes that are resistant to CO2 and CO2, H2S, Cl- coexistence (and of course H2O). For anti-CO2 corrosion, API Spec 5CT specification lists two steel grades, L80-9Cr and L80-13Cr, and each manufacturer has established its own non-API steel grade series. Such as Japan's JFE, live gold, domestic Tianguan Group, Baosteel and so on. Coexistence of CO2 and H2S, or H2S partial pressure is not critical but Cl- is high, 13Cr steel (including super 13Cr steel) can not meet the requirements, you need to use 22Cr duplex stainless steel (ASF2205) or super duplex stainless steel 25Cr, even High Ni, Cr stainless steel and Ni-based and FeNi-based alloys such as G3, 825, and 028 containing more than 20% Cr and containing Ni30% or more are used.
The CI-content of the Tarim and Chuanxi underground wells is extremely high. Special attention should be paid to the NKK material selection guide when selecting oil casings. The NKK selection guide shows that 22Cr duplex stainless steel and 25Cr super duplex stainless steel not only have better resistance to uniform corrosion than the 13Cr and super 13Cr oil casings, but also have superior pitting resistance and certain SSCC resistance. JFE's JFE-UHP-15Cr-125 and JFE-UHP-17Cr-110-125 have higher strength and CO2 corrosion resistance than Super 13Cr, but they are not a substitute for duplex stainless steel under CI-high conditions.
If you are interested in buying octg products-API 5L line pipes, casing and tubing pipes, sucker rods, send quotation now or call us!