Welded Line Pipe

Welded Tube and Pipe Production:
Welded tubes and pipes are manufactured by shaping and welding hot rolled steel coil or steel plate, and steel pipes produced from steel billet or ingot are seamless pipe. Welded line pipe is made with specifications for grades that includes fields as construction, structural, decorative, oil and gas drilling, oil, gas and water transmission, geological research, power generation and refineries. Other welded pipe can be ASTM A36 carbon steel pipe made using the Electric Resistance Welded method. It is applicated for structural applications such as bollards, sign posts and pipe pilings; or low pressure applications such as the conveyance of water or gas.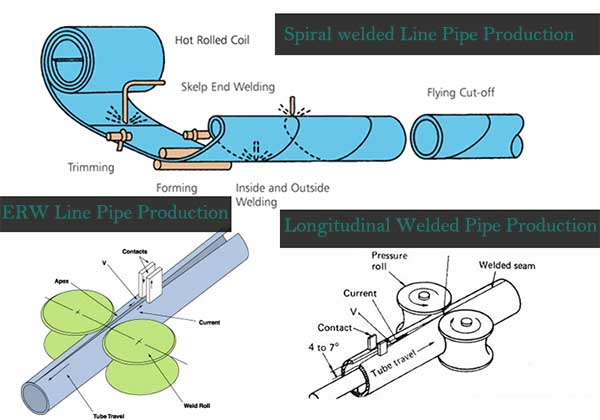 Grades

: API 5L B, X42, X52, X60, X65, X70

Specifications

: ASTM A53-B, ASTM A106-B, ASME, API-5L

Coating/Overlay Options

: Fusion Bonded Epoxy, TGF-3, PowerCrete / Abrasion-resistant overlay (ARO), and other customer-specific coatings

End Finishing

: Plain-end beveled (PEB) for welding; Zap-Lok

Wall Thicknesses

: Light Wall, Standard Wall, Extra Heavy and other wall thickness available
---
Welded Line pipe Methods of Production
There are 3 main methods of production for welded tube and pipe electric-resistance (ERW), longitudinal (LSAW or DSAW), and spiral welded.
1. ERW Pipe Production
Electric-resistance welded (ERW) tube and pipe is made by longitudinally welding HR coil. ERW material is typically limited to a maximum of 24" in diameter, due to the typical width of HR coil (maximum of 76" or 2.25m) with an average pipe length of 18m to 24m and a maximum wall thickness of 25mm.
2. Longitudinal Welded Pipe
Heavy plate is primarily used as the substrate, which is welded using the submerged arc welded (SAW) method, or double submerged arc welded (DSAW). Longitudinal welded pipe is created with a straight seam welded along the length of the pipe. Common pipe lengths are 12m to 18m although new production methods can go longer. There are 3 manufacturing routes for this type of pipe:
UOE- The flat plate is pressed and bent into a U shape and then into an O shape. The pipe is welded and expand (E) into the proper diameter. The standard diameter ranges between 20-56", limited by the width of the substrate plate thickness.
JCOE- The flat plate is pressed and bent into a J shape and then a C shape and closed into an O shape. Similar to UOE, the pipe is welded and then expanded (E) into the proper diameter. This manufacturing route is most popular in India and can have a maximum wall thickness of 60mm.
Roll bending-The flat plate passes through a series of rollers that bend the pipe into an O shape. While this manufacturing technique is slower than UOE, the pipe can be produced with a larger diameter, up to 100" with an average length of 12m.
3. Spiral Welded Pipe
Spiral welded is produced by winding and welding steel plate or thick HR coil in a circular fashion. This method allows for increased sizes and lengths. Diameters range between 24" – 200", while maximum wall thickness is about 20-25mm. The welding technique is referred to as Helical SAW (HSAW). Spiral welding is dominant in emerging markets and in new capacities in comparison to longitudinal pipe, as it is historically up to 15% less expensive to produce.
Welded Tube and Pipe Classifications
1. Welded Linepipe for Onshore Project
Welded linepipe is classified as any tube or pipe that carries liquids or gas across land, including oil, natural gas, or water. The pipe is laid in a horizontal direction, a key differences between linepipe and OCTG material. After production, tube and pipes are transported to the site and welded together to form the linepipe. The linepipe products are some of the highest priced of the steel products. They are classified under the American Petroleum Institute (API) specifications (API 5L).
2. Welded OCTG pipe for Offshore Project
Oil country tubular goods (OCTG) pipe is used for carrying oil and gas in a vertical direction, as opposed to horizontal, once a new oil and gas rig has been drilled. Casing is used to protect the tubing, which runs inside the drilled hole, down to the oil or gas well. Tubing or lifting pipe runs down the middle of a well bringing liquid/ gas to the surface or injecting water into the well. Drill pipe is tube that is used to hold the drill bit or explosives. Welded OCTG tube and pipes are not welded together onsite, pipes are instead coupled together using threading techniques specific to the environment and substance being extracted. Welded OCTG pipes are classified under the American Petroleum Institute API with non-heat treated grades including J and K grades, the lowest API classification, and heat treated including N80 type Q, P110, L80. Heat treated grades are for drilling in more difficult or caustic environments.
AGICO is the largest Welded Line pipe manufacture in China. We are the approved line pipe suppliers to major companies in industries as Oil & Gas, Refinery, Petro-chemicals, Chemicals & Fertilizer. API 5L welded Line pipes are licensed and have passed CE certified, all special grades and sizes can be manufactured according to customer needs.