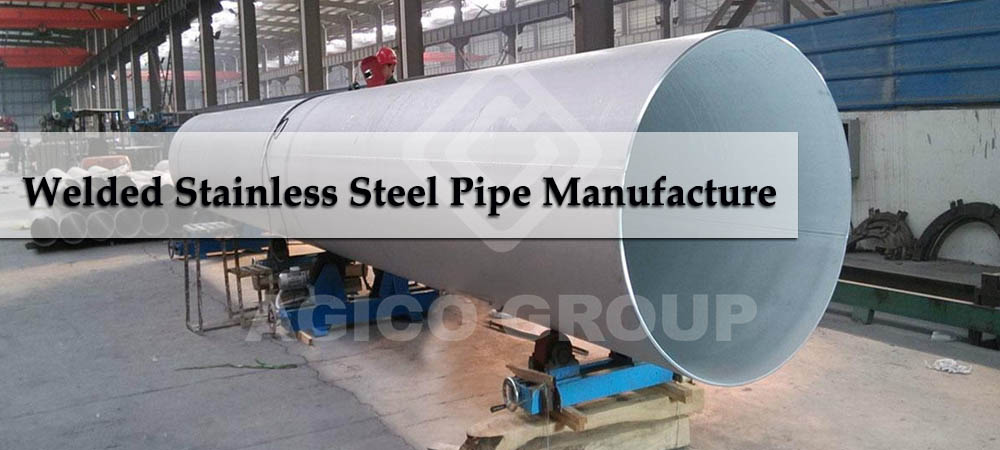 Welded Stainless Steel Pipe Production Requirement
Welded Steel Pipe End: square ends (straight cut, saw cut, and torch cut). or beveled for welding, beveled.
Welded Steel Pipe Packing: Plastic plugs in both ends, Hexagonal bundles of max. 2,000kg with several steel strips, Two tags on each bundle, Wrapped in waterproof paper, PVC sleessve, and sackcloth with several steel strips, Plastic caps.
Welded Steel Pipe Test: Chemical Component Analysis, Mechanical Properties (Ultimate tensile strength, Yield strength, Elongation), Technical Properties (Flattening Test, Bending Test, Blow Test, Impact Test), Exterior Size Inspection, Hydrostatic Test, X-ray Test.
Welded Stainless Steel Pipe Dimension Chart
Standard
GB12771-91
ASTM A312 / A312M
ASTM A249 / A249M
ASTM A688 / A688M
JIS G 3468
Stainless Steel Grade
0Cr19Ni9
00Cr19Ni11
TP304 TP304L
TP304 TP304L
TP304 TP304L
SUS 304TPY
0Cr17Ni12Mo2
TP316 TP316L
TP316 TP316L
TP304N TP316N
SUS 304LTPY
00Cr17Ni14Mo2
TP321
TP321
TP316 TP316L
SUS 316TPY
0Cr18Ni11Ti
TP304LN TP316LN
SUS 316LTPY
(1Cr18Ni9Ti)
SUS 321TPY
Specification range (mm)
D ≤ 560
10.3 ≤ D ≤ 762
D ≤ 127
15.9<D ≤ 25.4
165.2 ≤ D ≤ 1016
0.4 ≤ t ≤ 8.1
75 ≤ D ≤ 1200 or more
t ≥ 0.7
Yield strength σ 0.2 ( MPa )
≥ 180-220
≥ 170-205
≥ 170-205
≥ 175-240
≥ 175-205
Tensile strength σ b (MPa)
≥ 480 ;≥ 520
≥ 485 ;≥ 515
≥ 485 ;≥ 515
≥ 485 ;≥ 520 ;≥ 580
≥ 480 ;≥ 520
Elongation δ 5 (%)
≥ 35 (welding state ≥ 25)
≥ 35
≥ 35
≥ 35
≥ 35 (welding state ≥ 25)
Weld lateral guiding bending
Front guiding bending
Reverse bending
Reverse bending
Special requirements JIS Z3122
Root guiding bending
Or flatten
Flattening test (mm)
D 〈 200 H=D/3
Claim
Claim
Flattening test
D ≥ 200 string height H=D/4
Same right
t ≥ 10%D or ≥ 3.4 or D<9.5
NDT
Supplementary requirements (ray flaw detection)
Instead of water pressure
Special requirements JIS Z3106
Supplementary requirement
Eddy current / flaw detection
Pressure test
Water pressure
P=2.45 can be replaced by non-destructive testing
GB/T 7735 Class A
ASTM A530 / A530M
Can be replaced by non-destructive testing
AST M A450/A450M
1.5-2.5 by wall thickness
(Mpa)
GB/T 5777 C10
P=2RtD where R=50% σ 0.2
Air pressure
P=0.59
P = 1MPa
Intergranular corrosion test
GB4334.5
ASTM 262E method
ASTM 262E method
ASTM 262E method
Special requirements JIS G0575
(Supplemental requirements)
(Supplemental requirements)
(Supplemental requirements)
Heat treatment
Claim
Claim
Claim
Claim
special requirements
(TP321 should be stabilized)
(TP321 should be stabilized)
Outer diameter deviation (mm)
Outer diameter
ordinary
advanced
Outer diameter
Allowable deviation
Outer diameter
Allowable deviation
Outer diameter
Allowable deviation
Outer diameter
Allowable deviation
< 20
± 0.30
± 0.20
Welded state
≥ 20 ~ 50
± 0.50
±0.40
≥50
±1%D
±0.8%D
10.3- ≤ 48.3
+0.40/-0.80
< 25.4
±0.10
< 25.4
±0.10
<13
±0.25
±0.20
> 48.3- ≤ 114.3
+0.80/-0.80
25.4 ~≤ 38.1
±0.15
25.4~≤38.1
±0.15
≥ 13 ~ 25
±0. 40
±0. 3 0
> 114.3- ≤ 219.1
+1.60/-0.80
> 38.1 ~< 50.8
±0.20
> 38.1 ~ <50.8
±0.20
≤ 318.5
± 1%D
≥ 25 ~ 40
±0. 60
±0. 4 0
> 219.1- ≤ 457
+2.40/-0.80
50.8 ~ < 63.5
±0.25
50.8~<3.5
±0.25
Solid solution state
≥ 40 ~ 65
±0. 80
±0. 6 0
> 457- ≤ 660
+3.20/-0.80
63.5 ~ < 76.2
±0.30
63.5 ~ <76.2
±0.30
≥ 65 ~ 90
± 1.00
±0. 8 0
> 660- ≤ 864
+4.00/-0.80
76.2 ~≤ 101.6
±0.38
76.2~≤101.6
±0.38
> 318.5
± 0.5%D
≥ 90 ~ 140
± 1.20
± 1.00
> 864- ≤ 1219
+4.48/-0.80
> 101.6 ~≤ 190.5
+0.38/-0.64
> 101.6 ~≤ 190.5
+0.38/-0.64
≥ 140
By agreement
By agreement
> 190.5 ~≤ 228.6
+0.38/-1.14
> 190.5 ~≤ 228.6
+0.38/-1.14
Wall thickness deviation (mm)
Wall thickness
Allowable deviation
+ Not specified /-12.5%t
± 10%t
Average wall thickness tolerance
D ≤ 508
t ≤ 8
+15%t/-12%t
± 10%t
t > 8
+15%t/-10%t
< 4
+0.5/-0.6
Minimum wall thickness tolerance
D>508
t ≤ 8
+ indefinite /-12.5%t
≥ 4
+12.5%t/-15%t
+20%/-0
t > 8
+ indefinite /-10%t
Out of roundness deviation Δ D/D
≤ 2%D
Bending degree (mm/m)
2.0mm/m ~ 2.5mm/m
Reasonable straightness
0.8mm/900mm
Practical straightness
Weld seam height (mm)
≤ 15%t minimum height is 0.18
special requirements
Inner seam residual height ≤ 1.5
Inner seam residual height ≤ 3.0