Over View of Q235 and ss400 steel Specification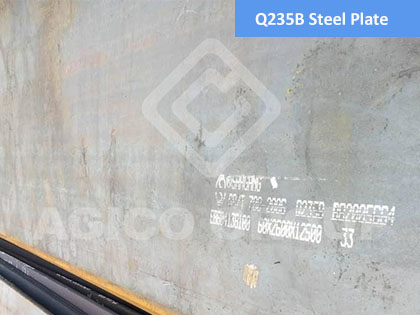 Q235 steel is equivalent to Japenese steel grade SS400 in application, the only difference is that ss400 steel requires only S,P composition < 0.050, Q235 has requirements for More element C, Si, Mn, S, P. Yield strength of q235 is >235Mpa, which is almost the same to SS400 245Mpa. Q represents the yield of this material, the latter 235, refers to the yield value of this material, at about 235MPA. With the increase of the thickness of steel plate, the yield value decreases. It is widely used in construction and engineering structures.
Below are Q235A, Q235B, Q235C & Q235D physical properties, chemical composition and equivalent.
Steel Plate Chemical Composition of Q235A,B,C,D
Steel Grade
Quality Grade
C % (≤)
Si % (≤)
Mn (≤)
P (≤)
S (≤)
Q235
Q235A
0.22
0.35
1.4
0.045
0.05
Q235B
0.2
0.35
1.4
0.045
0.045
Q235C
0.17
0.35
1.4
0.04
0.04
Q235D
0.17
0.35
1.4
0.035
0.035
Quality Grade: A<B<C<D
Steel Plate Mechanical Properties of Q235 A,B,C,D
Grade
Yield Strength
Tensile Strength
Elongation %
Q235 Steel
235 Mpa
370-500 Mpa
26
Test Sample:16mm steel bar, (Mpa=N/mm2)
Q235 Steel Equivalent Standard
China
USA
Germany
Japanese
France
UK
ISO
GB
ASTM
DIN
JIS
NF
BS
ISO
Q235A Steel
Gr.D
(σS230MPa)
Ust37-2
RSt37-2
SS440
SM400A (σS245MPa)
080A15 (σS235MPa)
E235B (σS235MPa)
Q235B Steel
Gr.D
(σS230MPa)
S235JR
S235JRG1
S235JRG2
(σS235MPa)
SS440
SM400A (σS245MPa)
S235JR
S235JRG1
S235JRG2 (σS185MPa)
080A15
S235JR
S235JRG1
S235JRG2 (σS185MPa)
E235B (σS235MPa)
Q235C Steel
Gr.D
(σS230MPa)
Gr.65 (σS240MPa)
S235JO (σS235MPa)
SM400A
SM400B (σS245MPa)
S235JO (σS235MPa)
080A15
S235JO (σS235MPa)
E235C (σS235MPa)
Q235D Steel
Gr.D
(σS230MPa)
S235J2G3
S235J2G4 (σS235MPa)
SM400A (σS245MPa)
S235J2G3
S235J2G4 (σS235MPa)
S235J2G3
S235J2G4 (σS235MPa)
E235D (σS235MPa)