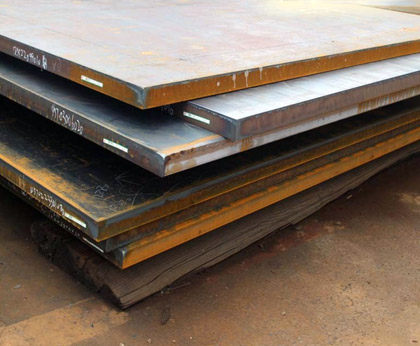 Q345 Alloy Steel Plate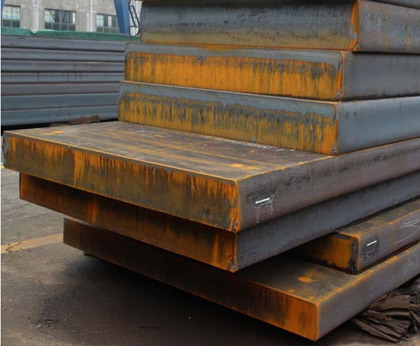 Q345 Heavy Steel Plate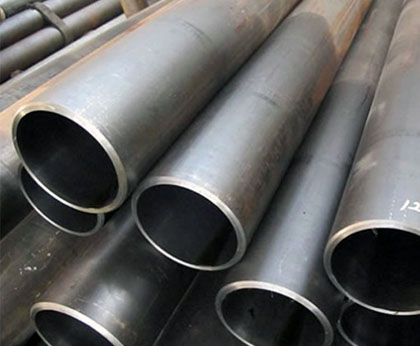 Q345 Seamless Alloy Steel Pipe
Q345 steel specification: Q345 steel belongs to 16Mn steel grade, usually it is produced in hot rolled state, hot rolled steel plate, hot rolled steel coil/sheet, it has comprehensive mechanical and welding property, as it shows good performance in structural purposes, it is widely used as welding structural part in manufacturing of ship, railway and vehicles, bridges, boiler, pressure vessel container, steel oil tank, etc. Yield point of Q345 steel plate decreases as plate thickness increases.
Q345 steel properties: welding property of Q345 steel is occasionally questioned by end users, although welding property is mainly affected by its chemical content, its production technology has been improved after all those years of research, and has been proved to be one excellent steel standard for steel structure purposes, you can contact us if there's any doubt in your mind.

As Q345 and Q235 alloy element content is different, their applications are quite different.
Application difference Q345 - Q235:
Q235 carbon structural steel is made for metal construction that doesn't have high demand for steel strength, tie rod, connecting rod, hook, coupler, bolt and nut, sleeve, shaft and welding parts.
Q345 is low alloy structural steel with good mechanical properties, low temperature performance, plasticity and good weldability, it is mostly used in low pressure vessel, oil tank, vehicles, cranes, mining machinery, power stations, mechanical parts, building structure, general metal parts, Q345(E) steel plate is always delivered in hot rolled or normalizing state, can be used in areas where its temperature is above -40 ℃.
If you are interested in buying Q345 Steel Plate or its Equivalent Steel Standards, please Contact us Now , AGICO is always ready to solve your problem.

Q345 Steel Chemical Composition:
Steel Standard
Steel Grade
Chemical Composition
C≤
Mn
Si≤
P≤
S≤
V
Nb
Ti
Al≥
Q345
A
0.20
1.00~1.60
0.55
0.045
0.045
0.02~0.15
0.015~0.060
0.20
-
B
0.20
1.00~1.60
0.55
0.040
0.040
0.02~0.15
0.015~0.060
0.20
-
C
0.20
1.00~1.60
0.55
0.035
0.035
0.02~0.15
0.015~0.060
0.20
0.015
D
0.20
1.00~1.60
0.55
0.030
0.030
0.02~0.15
0.015~0.060
0.20
0.015
E
0.20
1.00~1.60
0.55
0.025
0.025
0.02~0.15
0.015~0.060
0.20
0.015

Q345 Steel Mechanical Property:
Steel Standard
Steel Grade
Yield Strength Mpa
Tensile Stregth Map
Elongation %
Q345
A
345
470~630
21
B
345
470~630
21
C
345
470~630
22
D
345
470~630
22
E
345
470~630
22
Mechenical Property Comparision of Q345/Q235/S355:
| Steel Grade | Tensile strength | Yield strength | Elongation afrer fracture |
| --- | --- | --- | --- |
| S355 | 450-630Mpa | ≥355MPa | 21-22% |
| S500MC | 550-700Mpa | ≥500MPa | ≥12% |
| Q345B | 490-675Mpa | ≥345Mpa | ≥21% |
| Q235B | 375-500Mpa | ≥235Mpa | ≥26% |
Chemical Composition Comparision of Q345/Q235/S355:
| Steel Grade | C | Si | Mn | P | S |
| --- | --- | --- | --- | --- | --- |
| S355 | ≤0.22 | ≤0.55 | ≤1.60 | ≤0.025 | ≤0.025 |
| S500MC | ≤0.12 | ≤0.50 | ≤1.70 | ≤0.025 | ≤0.015 |
| Q345B | ≤0.20 | ≤0.50 | ≤1.70 | ≤0.035 | ≤0.035 |
| Q235B | ≤0.20 | ≤0.35 | ≤1.40 | ≤0.045 | ≤0.045 |
Q345 Steel Equivalent Standard(ASTM/EN/JIS):
Steel for boiler and other pressure vessels
GB 713-2008
ASTM A537-08
JIS G3115
Q245R (20g/20R); Q345R (16Mng/16MnR)
Class 1/2/3
SPV235; SPV315; SPV355
High strength low alloy structural steel
GB/T 1591-2008
EN 10028-3-2003
EN 10025-2004
ASTM A572-07
ASTM A588-05
Q345 (A/B/C/D/E); Q390; Q420
P355N
S420N
Grade 50; Grade 60
Grade A; Grade B